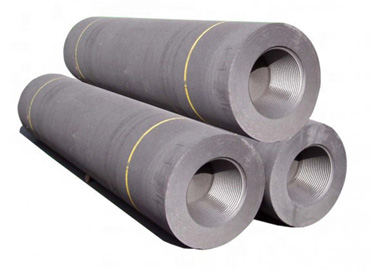 Graphite electrode is a kind of high temperature resistant graphite conductive material, which is made of petroleum coke, pitch coke as granular material, coal pitch as binder, through} kneading, molding, roasting, graphitization and machining. Graphite electrode is an important high-temperature conductive material for electric furnace steelmaking. It inputs electric energy to the electric furnace through graphite electrode. It uses the high temperature caused by electric arc between the electrode end and the furnace charge as the heat source to melt the furnace charge for steelmaking. Other electric smelting or electrolysis equipment often uses graphite electrode as the conductive material. In 2000, the world consumed about 1 million tons of graphite electrode, and China consumed about 250000 tons of graphite electrode in 2000. Using the excellent physical and chemical properties of graphite electrode, it has a wide range of applications in other industrial sectors. Carbon products industry, which mainly produces graphite electrode, has become an important component of the current raw material industry.
Graphite electrode is suitable for electric furnace smelting of iron and steel, yellow phosphorus, brown corundum, metal silicon and other conductive materials. Electric furnace steelmaking is the most advanced steelmaking method in the world. The output of electric furnace steel in developed countries accounts for more than 80% of the total output. The output of home appliance furnace steel in developing countries is very small, while that in China only accounts for about 10%. The potential market of graphite electrode is very large. Moreover, only a few countries in the world produce graphite electrodes, and the carbon industry in developed countries is declining compared with that in developing countries. Therefore, with the progress of high-tech and new technology and the increase of the demand of all countries in the world, the sales volume of carbon products is increasing year by year, and the carbon industry in China will also show a strong development trend.
Our factory can also use high quality graphite billet to process various specifications of graphite crucible, graphite bar, rod, ring, tube, graphite boat and other special structure graphite products for users. It can also produce high purity, high density, high strength and other special graphite products according to the special needs of users
Graphite crucible is widely used in non-ferrous metals, rare earth metals, chemical industry and other industries. In order to meet the needs of users, our factory is willing to produce impregnated crucible, oxidation-resistant coating crucible and other new products for users.
There are two kinds of electrode joints: conical and cylindrical. Conical joint not only has high bending strength, but also is easy to connect, so all export products are supplied with conical joint. Considering the custom of domestic users, cylindrical joints can also be supplied according to the requirements.