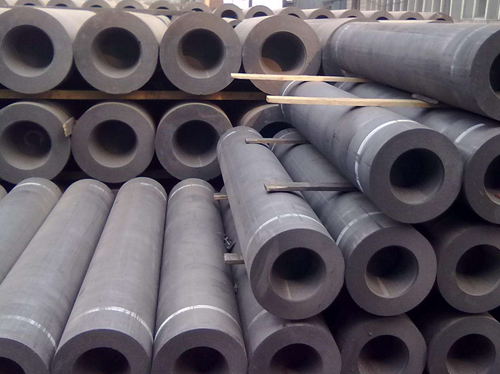 Graphite electrodes are widely used in various industries due to their unique properties and advantages. These electrodes are made from high-quality graphite material, which exhibits high thermal conductivity, low electrical resistance, and excellent mechanical strength. Here are some of the advantages of graphite electrodes in various industries:
Steelmaking Industry: Graphite electrodes are extensively used in steelmaking processes, specifically in electric arc furnaces (EAFs) and ladle furnaces. The high thermal conductivity of graphite enables efficient heat transfer, resulting in faster and more energy-efficient melting of steel scrap. Graphite electrodes also offer superior electrical resistance, allowing for higher currents and thus increasing the productivity of the steelmaking process. Additionally, graphite electrodes have better mechanical strength, which makes them more resistant to breakage during the steel production process.
Aluminum Industry: Graphite electrodes are crucial in the production of aluminum through the Hall-Héroult process. In this process, alumina (Al2O3) is electrolyzed in a bath of molten cryolite, using graphite electrodes as the anode. Graphite's excellent electrical conductivity allows for the efficient transfer of current, facilitating the electrolysis reaction and the production of pure aluminum. The chemical inertness of graphite also prevents it from reacting with the molten cryolite, ensuring the stability and longevity of the electrodes.
Chemical Industry: Graphite electrodes find applications in the chemical industry, particularly in the production of chemicals through electrolysis. Electrolytic processes such as chlor-alkali electrolysis and electrorefining require electrodes that can withstand harsh chemical environments. Graphite electrodes are highly resistant to corrosive substances and can operate at high temperatures, making them suitable for these electrolytic processes. They also provide a stable and consistent electrical connection, ensuring the efficiency and accuracy of the chemical reactions.
Electric Power Industry: Graphite electrodes are used in thermal power plants and other energy-generating facilities that rely on fossil fuels. These power plants employ large boilers and turbines where graphite electrodes are utilized for heating and controlling temperature during the combustion process. Graphite's high thermal conductivity helps in the uniform distribution of heat across the fuel, improving combustion efficiency and reducing emissions.
Glass and Ceramic Industry: Graphite electrodes are essential in the glass and ceramic industry for melting and refining raw materials. The high thermal conductivity and excellent resistance to thermal shock of graphite make it an ideal choice for continuous melting processes, such as in glass furnaces. Graphite electrodes ensure efficient and uniform heat transfer, resulting in high-quality molten glass or ceramic materials.
Electronics and Semiconductor Industry: Graphite electrodes are used in the manufacturing of semiconductors and electrical components. They are commonly employed in electric discharge machining (EDM), a process used to shape and cut hard metals. EDM machines utilize graphite electrodes to generate sparks and erode the workpiece material selectively. The thermal stability and electrical conductivity of graphite electrodes make them reliable tools for precision machining in the electronics industry.