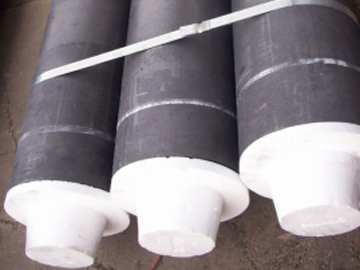 (1) Ordinary power graphite electrode
Allow the use of electric current density of less than 17a/cm 2 graphite electrode, mainly used in steelmaking, smelting silicon, refining of yellow phosphorus, such as ordinary power electric furnace.
(2) Anti-oxidation coating graphite electrode
A graphite electrode coated with an antioxidant protective layer (a graphite electrode antioxidant). Forming both conductive and high-temperature oxidation protection layer, reduce the electrode consumption (19%~50%), prolong the service life of the electrode (22%~60%), reduce the electric energy consumption of the electrode. The use of this technology can bring about such economic and social effects:
Graphite electrode unit Consumption is less, production cost has a certain reduction. For example, a steelmaking plant, according to the whole year does not occur discontinued a LF refining furnace 35 graphite electrode per week, refining treatment 165 furnace consumption calculation, the use of graphite electrode antioxidant technology, can save 373.