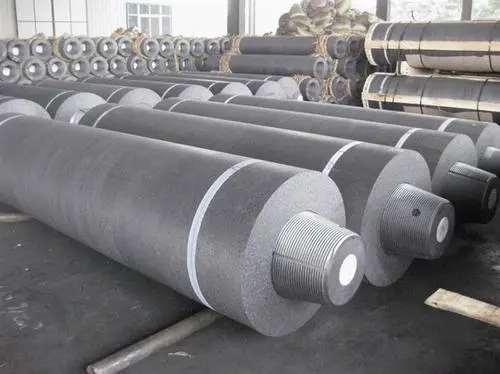 Graphite electrodes have revolutionized the manufacturing industry in several ways. These electrodes are widely used in electric arc furnaces (EAFs) for steel making, as well as in other applications such as electric heating, metal smelting, and chemical industries. Here are some ways in which graphite electrodes have changed the manufacturing industry:
Improved Efficiency: HP Graphite electrodes have significantly increased the efficiency of the steel making process in EAFs. EAFs using graphite electrodes can operate at higher temperatures compared to traditional methods, resulting in faster and more efficient steel production. The use of graphite electrodes allows for higher power densities and faster heating rates, thus reducing the overall processing time.
Enhanced Quality: The use of graphite electrodes has improved the quality of steel produced in EAFs. Graphite electrodes provide better control over the chemical composition of the steel, resulting in high-quality and consistent steel products. The ability to regulate the power input to the furnace allows for precise control of the melting process, reducing the risk of impurities and improving the overall purity of the steel.
Cost Savings: Graphite electrodes have significantly reduced the cost of steel production. EAFs using graphite electrodes require lower energy consumption compared to traditional methods, resulting in reduced electricity costs. Additionally, the higher efficiency and faster processing times with graphite electrodes lead to increased productivity and lower production costs. The lower maintenance and longer operational life of graphite electrodes further contribute to cost savings.
Environmental Impact: Graphite electrodes have also had a positive impact on the environment. EAFs using graphite electrodes generate significantly lower emissions compared to traditional steelmaking methods. The use of electric arc furnaces with graphite electrodes results in reduced greenhouse gas emissions, including carbon dioxide and nitrogen oxides. Furthermore, the ability to recycle and reuse graphite electrodes reduces the overall carbon footprint of the manufacturing process.
Versatility: Graphite electrodes have found applications in various industries beyond steelmaking. They can withstand high temperatures, making them suitable for applications such as electric heating and metal smelting. Graphite electrodes are also used in the chemical industry for processes such as electrolysis and electrorefining, where their high electrical conductivity and resistance to chemical corrosion are crucial.
Technological Advancements: The development and use of graphite electrodes have spurred technological advancements in the manufacturing industry. Research and development efforts have focused on improving the performance and durability of graphite electrodes, resulting in the development of high-performance electrodes. These advancements have allowed for increased power input, improved efficiency, and increased overall productivity in various manufacturing processes.