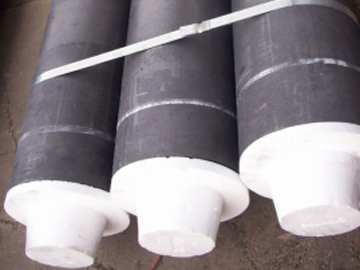 The use of graphite mold is mainly its high temperature resistance, such as pure copper casting temperature of about 1200 degrees, graphite at this temperature is still stable, thermal barrier and cold shrinkage are very small, can be neglected. On the other hand, lubrication is relatively good, the solidification process of metal liquid is not easy to adhere to the mold. Although the heat conductivity is poor, but in the casting cooling effect is not necessarily a good thing, so this may be the advantage. Graphite mold is generally used in horizontal continuous casting, because the use of this type of casting gravity has a greater impact on solidification, lubrication is not good can not be horizontal casting.
The main disadvantage is that the general can only use 1–2 weeks, because the number of metal liquid will be in the mold residue, accumulated to a certain extent will affect the crystallization, damage to the surface quality of ingots, the removal of the graphite anode plate needs to be repaired, the actual production of some high-quality ingots even only with new plates, higher costs Most of the manufacturers rely on imports, generally in Japan and the United States, more expensive.
At present, the production of iron mold casting, but in order to improve lubrication, the general also to add lubricants such as carbon black, oil, etc., generally used only in vertical semi-continuous casting.