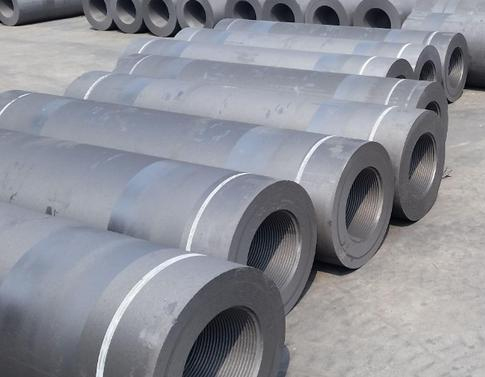 Graphite electrodes are widely used in high-temperature processing due to their unique properties and capabilities. Here are several reasons why graphite electrodes are considered in high-temperature processing:
High-temperature resistance: Graphite electrodes can withstand extremely high temperatures without significant deformation or degradation. They have a high melting point of around 3,500°C and can maintain their structural integrity under high-temperature conditions. This makes them ideal for use in processes that require high-temperature control, such as electric arc furnaces (EAFs), ladle furnaces, and submerged arc furnaces.
Excellent thermal conductivity: Graphite has a high thermal conductivity, allowing it to quickly and efficiently transfer heat. This property is critical in high-temperature processing as it helps to distribute heat evenly and prevent localized overheating. As a result, graphite electrodes can effectively transfer heat to the charged materials in the furnace, facilitating efficient melting, refining, and alloying processes.
Low electrical resistance: Graphite electrodes exhibit low electrical resistance, making them highly conductive. This property is vital in electric arc furnaces where the electrodes are used to create an electric arc between the electrode and the charge. The intense heat generated by the arc melts the charge and facilitates various metallurgical reactions. The low electrical resistance of graphite electrodes ensures efficient energy transfer and promotes stable and consistent operation of the electric arc furnace.
Chemical inertness: Graphite is chemically inert, meaning it does not react with most substances under normal conditions. This property makes graphite electrodes highly resistant to chemical attacks from molten metals, slag, and other reactive substances encountered in high-temperature processing. As a result, graphite electrodes have a long service life and maintain their performance even in highly corrosive environments.
Mechanical strength and stability: Graphite electrodes possess excellent mechanical strength and stability, with a low coefficient of thermal expansion. This enables them to resist thermal shocks and physical stresses that occur during high-temperature processes. Additionally, graphite electrodes have a relatively low density, providing a favorable strength-to-weight ratio. These characteristics make graphite electrodes reliable and durable for use in demanding applications such as EAFs and ladle furnaces.
Economical and customizable: Graphite electrodes offer cost-effective solutions for high-temperature processing due to their versatility, ease of manufacturing, and recyclability. Graphite is abundantly available and can be modified to suit specific process requirements. The size, shape, and properties of graphite electrodes can be customized to match the needs of different furnace designs, resulting in optimized performance and energy efficiency.