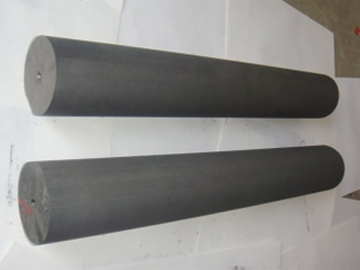 During the operation of the electrolyzer, the graphite anode is mainly consumed through the following forms of corrosion. First of all, the electrolyte contains a lot of hydrogen oxide ions and a small amount of sulfuric and hypochlorite ions as impurities, which will discharge on the anode to generate oxygen. The primary oxygen produced oxidizes graphite to carbon dioxide or carbon monoxide, which accounts for more than half of the total erosion of graphite anode.
Secondly, with the deepening of oxidation, the binding between the particles of the graphite anode body is gradually destroyed, and the loose particles on the surface layer of the graphite anode will lead to slag falling under the wash of salt water. Oxidation and slagging make the anode thin, and to a certain extent, the tank needs to be stopped for replacement. The loss of residual electrode accounts for more than 1 / 4 of the total consumption of graphite anode.
The consumption of oxidation and slagging is related to the porosity of graphite anode. High porosity and high consumption. The most commonly used method to reduce the porosity of graphite anode is to use linseed oil, tung oil and other dry oils for whole or root impregnation before use.