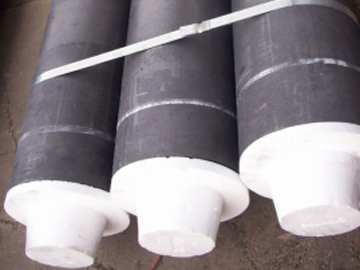 Tool material is the fundamental factor determining the cutting performance of tools, which has a great impact on machining efficiency, machining quality, machining cost and tool durability. At present, the tool materials for efficient machining of graphite electrode include cemented carbide coated tools, diamond (PCD) tools and diamond coated tools.
(1) Carbide coated tools. Using ultrafine cemented carbide and AlTiN coating on the surface can reduce cutting resistance and improve wear resistance. It is suitable for graphite electrode processing, but it is not suitable for high-speed, high-efficiency and mass CNC processing.
(2) Diamond (PCD) tools. Diamond material is the hardest superhard material found at present. Cdw302 material with coarse particle size and better wear resistance is selected. The service life of cdw302 graphite electrode processing tool is dozens of times that of cemented carbide tool, and its performance is stable. It is suitable for high-speed, efficient and batch production and processing.
(3) HPD diamond coated tools. CVD diamond coating process, combined with the seismic performance of tungsten steel tool handle, the impact toughness of tungsten steel and the super wear resistance of diamond, is currently an efficient tool for processing graphite electrode. It is widely used in difficult to process materials such as graphite electrode, 3D glass hot bending die, composite material, high silicon aluminum and ceramic. However, due to the manufacturing process, cycle, price and other factors of diamond coating, As the technology and cost control of PCD graphite electrode tools become more and more mature, cdw302 or cdw010 graphite tools are generally selected first. For micro diameter machining and small hole machining of graphite electrode, it is recommended to select HPD coated tools, such as small and micro diameter graphite ball end milling cutter and graphite drill bit less than 3mm.