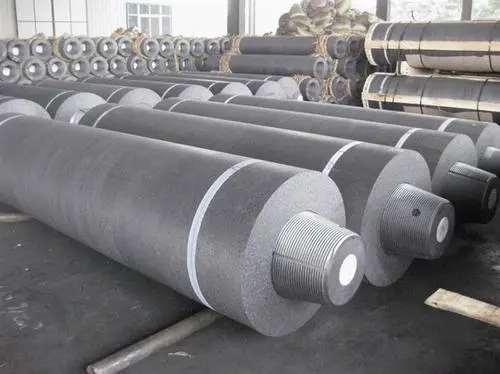 Electric arc furnace steelmaking and iron alloy electric smelting are normally use graphite electrode. During production, with arc to slag flushing occurs mechanical loss and high temperature in the furnace gas oxygen, oxidizing gases such as carbon dioxide, such as erosion, resulting in surface gradually oxidized electrode wear. And the consumption of the electrodes, oxidation losses account for about 35-45%.
Most of graphite electrode manufacturers press blanks by various kinds of steps using graphite electrode raw material and process all kinds of specifications of graphite products after graphitization.
In electric arc furnace steelmaking and ferroalloy smelting process, due to the oxidation of the electrode, electrode diameter thinning, such as liquid metal electrode broke into, will increase the carbon content of molten metal, the alloy smelting and steel scrap or lower the grades handling. Therefore, the smelter workers to thin diameter electrodes interrupted, so it increases the electrodes consumption, raise the cost of the product. For many years, electrode of smelting workers for an antioxidant, in recent years, some manufacturers test using an electrode against oxidation coatings, electrodes in hopes of slowing oxidation, reducing consumption, but this complex process, high input costs, and the electrode surface is not smooth, poor electrode contact with conductive copper tile, easy to heat shut down job rate.
This invent purpose is to provide a treament technology of graphite electrode oxidation to improve the physical properties of graphite electrode, increase the machinery strength, reducer labor strength of metallurgy workers and improve environment, use less goods and materials to gain better economic effect.