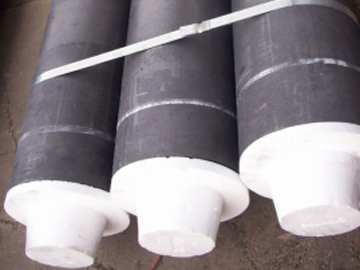 (1) Ordinary power graphite electrode: Allow the use of current density of less than 17a/cm 2 graphite electrode, mainly used in steelmaking, smelting silicon, refining of yellow phosphorus, such as ordinary power electric furnace.
(2) Anti-oxidation coating graphite electrode: The surface coating a layer of antioxidant protective layer of graphite electrode, forming both conductive and high-temperature oxidation protective layer, reduce the electrode consumption when steelmaking.
(3) High power graphite electrodes: Graphite electrodes, which allow the use of current density of 18~25a/cm 2, are mainly used in high power arc furnaces for steelmaking.
(4) Ultra-high power graphite electrode: Allow the use of the current density of more than 25a/cm 2 graphite electrode. Mainly used in ultra-high power steelmaking arc furnace.
The other offers a variety of small size graphite electrodes, 10-100mm between diameters, and can produce φ3-15mm, length 2-200mm graphite electrodes with small specifications.
Technical requirements for graphite electrode products:
Diameter 100-650mm resistivity: 7.0μωm connector: 4PTI flexural strength: 8–20mpa, Elastic modulus: 0 GPa, Ash 0.1–0.3%, bulk density: 1.50—1 70g/cm3, thermal expansion coefficient: 1.3-3.2 10-6 1/℃.