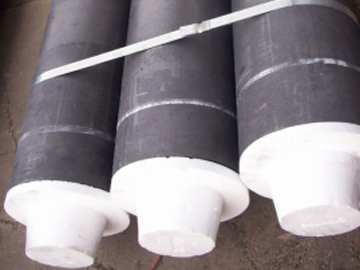 What is roasting?
Roasting refers to the technological process of carbonizing coal tar pitch in the process of forming graphite electrode green blank in the protective medium of roasting heating furnace, under the condition of isolating air, and at a certain heating rate.
Binder coke is formed by pyrolysis and condensation reaction of coal tar pitch binder contained in green graphite electrode during roasting. Binder coke is formed between carbon aggregate particles, and all aggregates with different particle sizes are firmly bonded together, so that graphite electrode has certain strength and physical and chemical properties. The calcined graphite electrode has higher mechanical strength, lower resistivity, better thermal stability and chemical stability.
What is the purpose of burning?
(1) Eliminate volatiles. In the process of roasting heat treatment, coal tar pitch contained in green billet will undergo thermal decomposition and condensation reaction, and unstable light components will be removed in the form of volatile matter. The amount of volatile matter discharged is about 10%, so the roasting yield is generally below 90%.
(2) Coking of binder. After roasting heat treatment, coal tar pitch binder pyrolysis and condensation to form a compact bonded coke (pitch coke), which combines the carbon aggregate particles firmly into one, giving graphite electrodes performance.
(3) Fixed product shape. Although the green billet after forming has a certain shape, it is easy to soften and deform after heating because the binder keeps its original state. Through the coking of the binder in the roasting process, the aggregate particles are consolidated, the shape of the product is fixed, and the volume of the product is also stable.
(4) Improving the electrical conductivity of the products. With the coking and volatile removal of coal tar pitch binder in roasting process, the resistivity of carbon products decreases greatly. The resistivity of green compacts is about 10 000_. M. After roasting, the resistivity of carbon products decreases to 30? 60_. m, which effectively improves the electrical conductivity of carbon products.
(5) Improve the physical and chemical properties of the products. During the roasting process, the binder coking, product volume shrinkage, mechanical strength, true density, oxidation resistance, thermal conductivity, electrical conductivity and corrosion resistance have been greatly improved, so that the roasted carbon products have obtained good physical and chemical properties and service performance.